🌟🌟 ℍ𝕠𝕥 ℕ𝕖𝕨 ℝ𝕖𝕝𝕖𝕒𝕤𝕖 🌟🌟
𝐓𝐡𝐞 𝐓𝐨𝐮𝐜𝐡 𝐨𝐟 𝐚 𝐕𝐢𝐥𝐥𝐚𝐢𝐧 𝐛𝐲 𝐇𝐨𝐥𝐥𝐲 𝐑𝐞𝐧𝐞𝐞 𝐢𝐬 𝐋𝐈𝐕𝐄! 𝐃𝐨𝐧'𝐭 𝐦𝐢𝐬𝐬 𝐭𝐡𝐢𝐬 𝐞𝐧𝐞𝐦𝐢𝐞𝐬 𝐭𝐨 𝐥𝐨𝐯𝐞𝐫𝐬 𝐫𝐨𝐦𝐚𝐧𝐜𝐞!
#𝟏-𝐜𝐥𝐢𝐜𝐤 𝐭𝐨𝐝𝐚𝐲!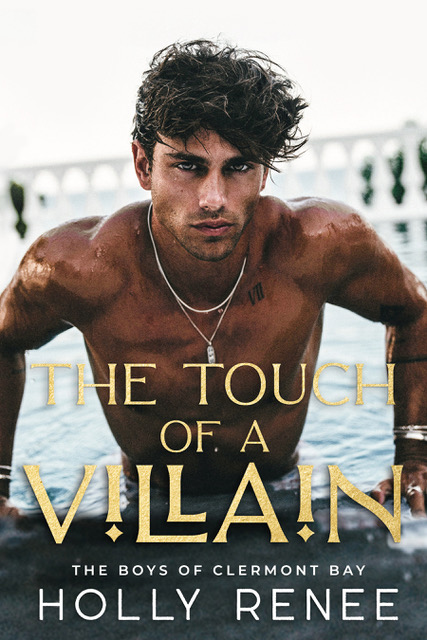 BLURB𝙔𝙤𝙪𝙣𝙜. 𝙒𝙚𝙖𝙡𝙩𝙝𝙮. 𝙀𝙡𝙞𝙩𝙚. 𝙍𝙪𝙩𝙝𝙡𝙚𝙨𝙨. 𝙏𝙝𝙚 𝙗𝙤𝙮𝙨 𝙤𝙛 𝘾𝙡𝙚𝙧𝙢𝙤𝙣𝙩 𝘽𝙖𝙮 𝙧𝙪𝙡𝙚𝙙 𝙤𝙫𝙚𝙧 𝙩𝙝𝙞𝙨 𝙩𝙤𝙬𝙣 𝙖𝙨 𝙞𝙛 𝙞𝙩 𝙬𝙖𝙨 𝙩𝙝𝙚𝙞𝙧 𝙠𝙞𝙣𝙜𝙙𝙤𝙢. And Beck Clermont controlled them all. He was arrogant and conceited, and from the moment I met him, he had made up his mind about me. Dangerously handsome and wickedly cruel, he had no intention of letting me spend my senior year under the radar. The secrets of old money ran deep, and even though I barely knew them, the sins of my family had put a target on my back. He was a hurricane, and I was unprepared for the storm. His touch fatal. His impact irreparable. There was no negotiation. He stole my heart. Without warning, without permission. 𝙃𝙚 𝙬𝙖𝙨 𝙩𝙝𝙚 𝙚𝙣𝙚𝙢𝙮, 𝙗𝙪𝙩 𝙩𝙝𝙖𝙩 𝙙𝙞𝙙𝙣'𝙩 𝙨𝙩𝙤𝙥 𝙢𝙚 𝙛𝙧𝙤𝙢 𝙛𝙖𝙡𝙡𝙞𝙣𝙜 𝙛𝙤𝙧 𝙏𝙝𝙚 𝙏𝙤𝙪𝙘𝙝 𝙤𝙛 𝙖 𝙑𝙞𝙡𝙡𝙖𝙞𝙣.Add to Goodreads ➜ https://bit.ly/TTOAV-GRPURCHASE LINKSUniversal Link:https://books2read.com/u/mejykg
GIVEAWAYTo celebrate the release of The Touch of a Villain's, Holly Renee is hosting a giveaway. Head to her Facebook page to enter: http://www.facebook.com/authorhollyrenee
My Review
OMG!! OKAY! I am positively sure this just took the spot as my number one favorite Holly Renee book and now I am on pins and needles for book 2. I need it like I need air, like a fat girl needs cake, like a drifter lost at sea with no horizon in sight. I need to be put out of my misery because I just fell in Insta love, to hate, in lust, back in love then to heartbreak. All that magic in the span of the few hours it took me to devour this fantasticness.
This book was a literary bouquet of all the things I love about reading. I couldn't contain my butterflies during their first chance meeting. Then Holly went and turned it up and all that enemies to lovers golden goodness started pouring out and shredded my poor heart. 💔Beck and Josie's story is addictive and woo hoo, GLORY B, it's not done being told. I am so not ready to let them go. 🤗From page one my fate was sealed and I was OBSESSED with this story. GAH!! I got it bad for my boy Beck.
Holly crafted the most perfectly phenomenal star crossed enemies to lovers tale filled with secrets, lies, and deception at the hands of the wealthy, elite, and entitled youths of this gorgeous seaside town. I have a feeling book one has just barely scratched the surface of all Holly is planning to throw at us and I for one can't wait! This was unputdownable. Fair warning this book does end on a cliffhanger but it's so frustratingly good.
Cr8zysock Breaks it down for y'all!
Six ⭐️ ⭐️⭐️⭐️⭐️⭐️ Sinfully dark and Swoony Stars! This book full wealth, power, and privilege, sex, lies and mystery! It has IT ALL!
🔥🔥🔥🔥Beck and Josie are hotter than the seventh circle of Hades. Hotter than a cast iron skillet straight out of the oven. So really freakin Hot Y'all!
🌪 THAT CLIFFY THOUGH, y'all🌪 I am so wondering what's going to happen?!
TEASERS
ABOUT THE AUTHOR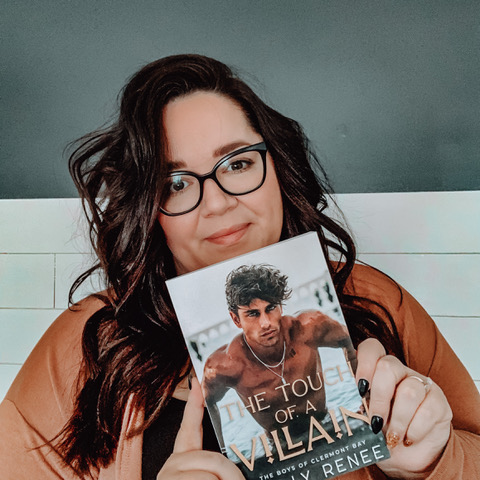 Amazon Top 100 bestselling author of contemporary romance, Holly Renee brings readers a pinch of angst, an indulgence of heat, and the perfect amount of heart in every book.Born and raised in East Tennessee, she is a married mom of two wild children. When she's not writing, you can find her reading, pretending to be a dragon for the hundredth time that day, being disgustingly in love with her husband, or chilling in the middle of the lake with her sunglasses and a float.Holly is a lover of all things romance, Mexican food, Harry Potter, and yoga pants.AUTHOR LINKSFB Author Page | ReaderGroup | Instagram | BB | GR | AMZ Author Page | Newsletter Sign up | TikTok | Website