Dirty Little Secret Duet Cover Reveal
🖤🖤 𝑫𝑼𝑨𝑳 𝑪𝑶𝑽𝑬𝑹 𝑹𝑬𝑽𝑬𝑨𝑳 🖤🖤
Check out J.D. Hollyfield's hot covers for the Dirty Little Secret Duet! Bad Daddy and Sweet Little Lies are coming soon!
Add to your TBR 𝙩𝙤𝙙𝙖𝙮!
𝘽𝘼𝘿 𝘿𝘼𝘿𝘿𝙔 (𝘿𝙞𝙧𝙩𝙮 𝙇𝙞𝙩𝙩𝙡𝙚 𝙎𝙚𝙘𝙧𝙚𝙩 𝘿𝙪𝙚𝙩 𝘽𝙤𝙤𝙠 1)
Off-limits.
The bold warning that blared like sirens around me at the indecent attraction for my roommate's father.
It was improper and forbidden.
I was hungry for attention. Determined. And he was an appetite that needed to be fulfilled.
I told myself just once, but now that I've gotten a taste, there's no turning back now.
She made a mistake taunting me.
Thinking she could handle a man like myself. I shouldn't have allowed her so close. A stronger man would have denied her.
But I'm a bad bad man.
And if I had any willpower of staying away from this illicit attraction…
It's gone now.
𝙎𝙒𝙀𝙀𝙏 𝙇𝙄𝙏𝙏𝙇𝙀 𝙇𝙄𝙀𝙎 (𝘿𝙞𝙧𝙩𝙮 𝙇𝙞𝙩𝙩𝙡𝙚 𝙎𝙚𝙘𝙧𝙚𝙩 𝘿𝙪𝙚𝙩 𝘽𝙤𝙤𝙠 2)
He wasn't what destiny had in store for me.
He was everything wrong in a man I was supposed to fall in love with.
He was dangerous.
His eyes told me so.
The words he tempted me with were simply sweet little lies to lure me in. And now…
I'm trapped in his web of desire and temptation.
She only had herself to blame.
Taunting the beast with the forbidden fruit.
A man can only be tempted for so long, until he takes a bite. Devours his prey.
Now she's my pretty little toy.
And I will stop at nothing to break her. Unless…
She breaks me first.
Add the duet to your Goodreads TBR: https://bit.ly/DLSD-GR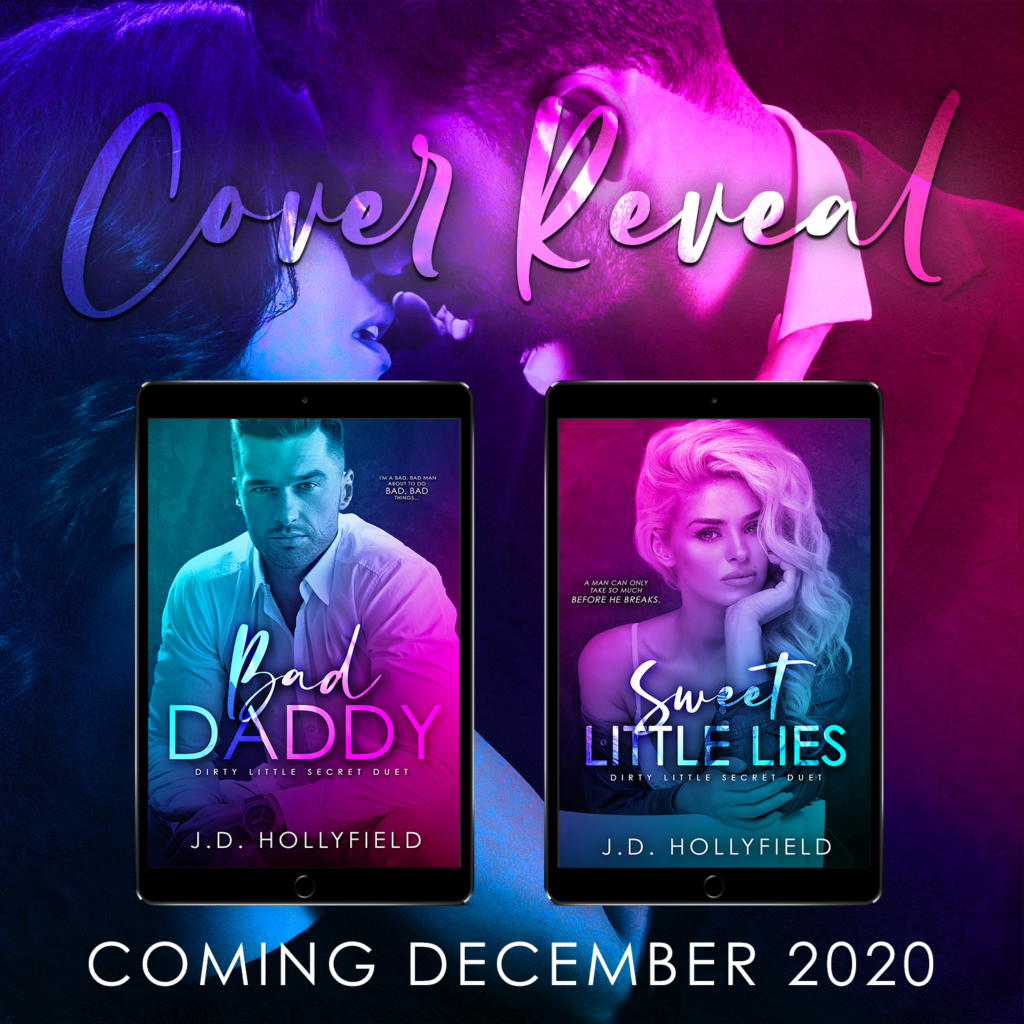 GIVEAWAY
To celebrate the reveal of the Dirty Little Secret duet, J.D. Hollyfield has a giveaway on her Facebook page. Stop by to enter!
https://www.facebook.com/authorjdhollyfield/
ABOUT J.D. HOLLYFIELD
J.D. Hollyfield is a creative designer by day and superhero by night. When she's not cooking, event planning, or spending time with her family, she's relaxing with her nose stuck in a book. With her love for romance, and her head full of book boyfriends, she was inspired to test her creative abilities and bring her own stories to life. Living in the Midwest, she's currently at work on blowing the minds of readers, with the additions of her new books and series, along with her charm, humor and HEA's.
J.D. Hollyfield dabbles in all genres, from romantic comedy, contemporary romance, historical romance, paranormal romance, fantasy and erotica! Want to know more! Follow her on all platforms!
AUTHOR LINKS
Twitter: https://twitter.com/jdhollyfield
Author Page: http://authorjdhollyfield.com/
FanPage: www.facebook.com/authorjdhollyfield
Instagram: www.intsagram.com/authorjdhollyfield
Join Reader Group: http://bit.ly/1dGxSwl
Goodreads: http://bit.ly/1vpfOZE
Amazon: http://amzn.to/2g4iwJm
BookBub: https://bit.ly/2uIz28J
Color Street: https://www.colorstreet.com/nailenvybyjessica