🔥🔥 HOT NEW RELEASE 🔥🔥
Shaken from Charity Ferrell is LIVE! You don't want to miss this enemies to lovers, brother's best friend romance. #One-click today!
BOOK BLURB A see yourself out note isn't how you want to celebrate the morning after your first one- night stand.The first time I meet Archer Callahan is when I block him in a parking spot. The second is a fender bender. The third is at a bar, drinking away our problems, and finding our way to his bed. I never expected to see him again.That changes when a month later, he's introduced as my brother's new business partner.In need of a job, I'm hired at their bar, much to Archer's dismay.We hate each other. We're off limits. But every time we're together, flashbacks of that night shake through us.We push, we pull, until one of us breaks.
GOODREADS LINK: https://bit.ly/Shaken_GR
My Review
OMG my lovelies!! Shaken by Charity Ferrell is a heart wrencher , a heart warmer and a heart melter all in one. It was such an amazing reading experience. We got a glimpse of Archer and Georgia in the first of her Twisted Fox series, Stirred, so I knew we had something amazing coming our way. Boy did she deliver too! Ah, the push and pull perfection!😍Archer and Georgia's story is a perfect blend of so many of my favorite genres. You get your brother's best friend, second chance, slow-burn, one-night stand to lovers, and enemies to lovers right here in one phenomenal book.
Georgia the spunky, bubbly and sassy ray of smokin sexy sunshine meets Archer in a series of mishaps gone wrong, their chemistry runs as hot as their anger and hatred for each other. Then just when things take an interesting turn after they have a run-in while drinking at the same bar that ends with them in between his sheets, only for him to leave her the next morning with a few words on a page and some coffee and a couple of donuts, and ruins it all. Her hopes of never seeing him again are crushed when she not only finds out that he is her brother's elusive friend of a few years but his new business partner and one of her new bosses. As much as she hates him, her body sure remembers just how much it does not hate him. Will she be able to crack the code that is this confusing hot and cold man, or Is her heart already too far gone for this infuriatingly sexy jerk?
Archer Callahan is a one of those characters you want to bop upside the head with your kindle. He's frustrating, but you also want to just give him a big hug too. You can feel that he literally has some serious baggage and my heart broker for him. He had so many people that cared for him and legit wanted to help carry some of that baggage for him so he wasn't carrying it around all by himself but he just wanted to sit around and suffer in silence instead.Every.Single.Time he hurt Georgia to push her away it broke my heart. As the book went on It totally became apparent why he was the way he was and why he felt he needed to punish himself. Why he felt he wasn't deserving of any happiness. I loved the way Charity wrote this and it unfolded slowly. It kept us in the frustrated place of longing and want. Pleading for them to get it together. I mean they just had to. They were MEANT TO BE!! They were so hot. Archer was so sexy and swoony and alpha AF even if he didnt realize or want to be.
My cr8zysockbookblock blog wrap up for this book!
⭐️⭐️⭐️⭐⭐⭐️- Archer and Georgia were perfect. This book was everything I hoped it would be and then some. It is full of frustration,secrets and heat, witty banter for days and the perfect little sassy and sweet heroine to balance out a gruff and self-punishing hero. This book was constantly deliciousness. For me this was definitely a book you I was hooked on from page one to the end. It gets FIVE STARS from me!
🔥🔥🔥🔥🔥- GAH! This was both steamy and a little bit swoony. 😍 I love the push and pull of a good romp with a mega Alpha! This book was so unbelievably hot, I was literally dying all the deaths. They were verbally sparring so much I didnt know if they were about to be fighting or…well you know 😏
🌪Cliffhanger Warning- Y'all!*insert Happy Squeak* Perfection. Yay! 🙌🏻🔥🙌🏻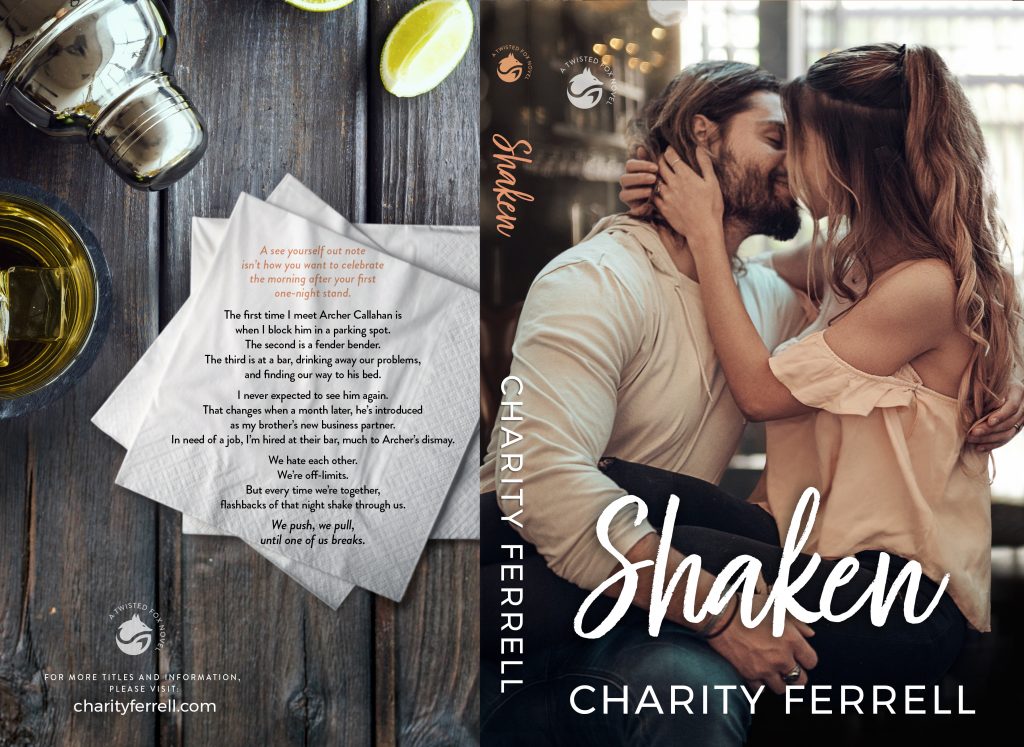 PURCHASE LINKS
Amazon US: https://amzn.to/2KBCze0
Amazon World: https://bit.ly/2Y2rnzb
Apple: https://apple.co/2KDj04Y
Google Play: https://bit.ly/2x9Mkx9
Kobo: https://bit.ly/2YhuR11
GIVEAWAYTo celebrate the release of Shaken, Charity Ferrell is giving away a $25 Amazon gift card on both Facebook and Instagram! Head to her Facebook page to enter: https://www.facebook.com/authorcharityferrell
Head to her Instagram page to enter: https://www.instagram.com/charityferrell
TEASERS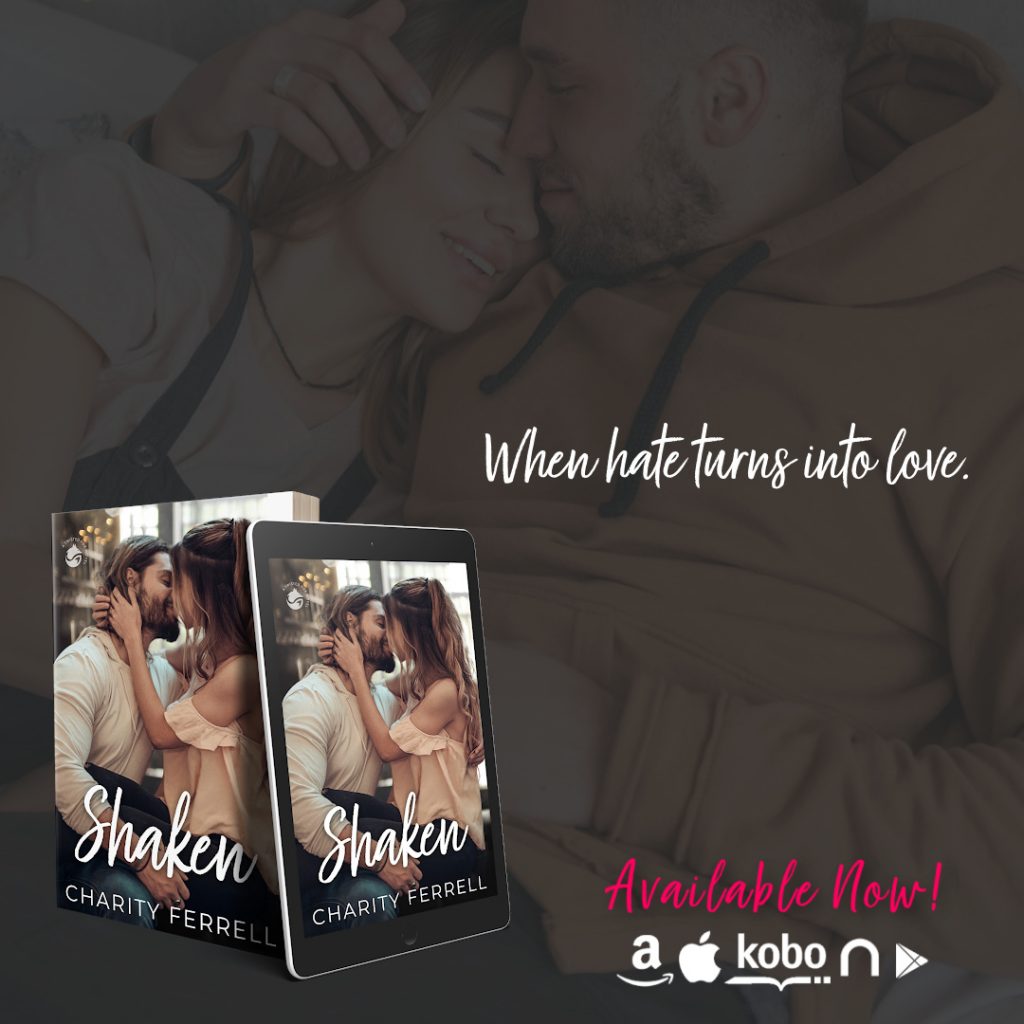 ALSO AVAILABLE IN THE TWISTED FOX SERIES
#1 StirredAmazon US: https://amzn.to/2uC3Kkz
Amazon Worldwide: https://bit.ly/2UQoi31
Apple Books: https://apple.co/32ye2ia
Google Play: https://bit.ly/2RS0XfH
Kobo: http://bit.ly/2TkRWLT
#3 STRAIGHT UP (Preorder):
Amazon US: https://amzn.to/37KwYgk
Amazon World: https://bit.ly/3eQyzn7
Apple: https://apple.co/2YVI4Lg
Google Play: https://bit.ly/311CZ7a
Kobo: https://bit.ly/3e2XL9L
UNIVERSAL: https://books2read.com/straightupbook
#4 CHASER (Preorder):
Amazon US: https://amzn.to/2Qbyj7R
Amazon World: https://bit.ly/3jcSC1t
Apple: https://apple.co/3grn8Ti
Google Play: https://bit.ly/3aNPc1V
Kobo: https://bit.ly/2QbVOxF
UNIVERSAL: https://books2read.com/chaserbook
#5 LAST ROUND (Preorder):
Amazon: https://amzn.to/34StMzH
Amazon World: smarturl.it/lastroundbook
Apple: https://apple.co/2EQ9Y5x
Kobo: https://bit.ly/3bkelS0
UNIVERSAL: https://books2read.com/lastround
ABOUT THE AUTHOR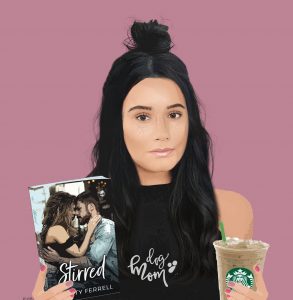 Charity resides in Indianapolis, Indiana. She grew up riding her bicycle to the town's public library, and reading anything she could get her hands on. When she's not writing, you can find her reading, spending time with her family, or caving into her online shopping addiction. AUTHOR LINKSFacebook Group: https://www.facebook.com/groups/146574179377161Facebook Page: https://www.facebook.com/authorcharityferrellFacebook Profile: https://www.facebook.com/charity.ferrellInstagram: https://www.instagram.com/charityferrellTwitter: https://twitter.com/charity_ferrellAmazon: https://www.amazon.com/CharityFerrell/e/B00II5YG5OBookbub: https://www.bookbub.com/profile/charity-ferrellGoodreads: https://www.goodreads.com/author/show/7539473.Charity_FerrellWebsite: http://www.charityferrell.comText Club: Text CHARITYBOOKS to 31996 or visit https://slkt.io/CRf